INTERESTING STUFF
THAT CAUGHT OUR EYE
Interiors: Bye-Bye Industrial, Hello Glamour at the Decorex Interior Design Show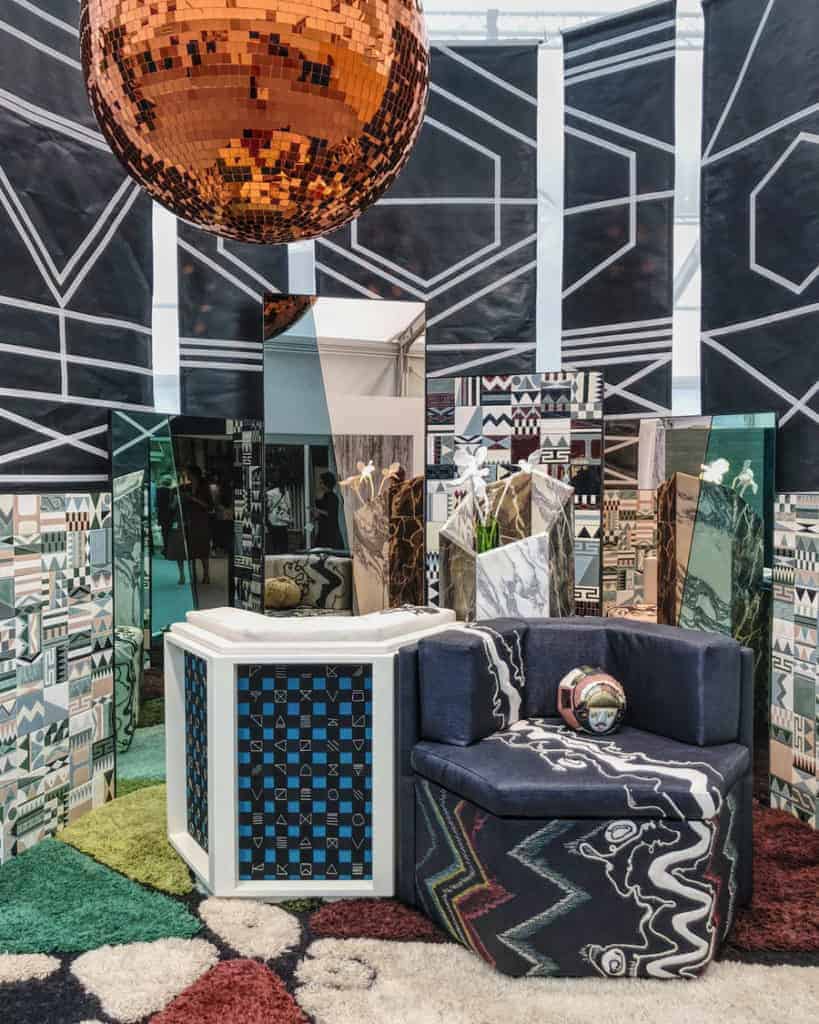 Decorex is an annual, international trade fair where interior design companies show off their latest products for the London Design Festival. This year's event was held in the beautiful gardens of Syon House, home of the Duke of Northumberland – which has a stunning interior of its own.
After seeing furniture, carpets, wallpapers, lighting and more from over 400 exhibitors, here are the design trends and highlights that I took away from the show.
Glamour and luxury are back
After years of sitting on uncomfortable reclaimed furniture with bare lightbulbs swinging in our faces, the industrial chic interior design trend is finally on its way out. In its place, the antithesis: luxury, plush furniture upholstered in velvet.
The style is very 1940s, typical of what you might see in five star London hotels such as The Ned. There's an abundance of brass, muted colours and an overall feeling of comfort and glamour. Think luxury cocktail bars of the era, like the Savoy American Bar.
Part of this 1940s luxury aesthetic is the return of the screen, which had all-but disappeared from the furniture lines of high end brands. As with much of the furniture on show, royal blues and warm browns dominated the palette.
Rugs that ooze style without compromising practicality
Aged rugs made a strong showing, and a rare example of high concept interior design that doesn't clash with the harsh realities of family life.
These distressed, abstract designs with hints of Persian patterns bleeding through give a feeling of class and quality with the reassurance that the pre-aged look will stand the test of time.
After all, it's hard to justify spending a fortune on a pristine patterned rug when you know spilled wine, messy children and muddy pet paws will quickly shatter the showroom illusion.
Burnished metal, a favourite of mine that's here to stay
There's been a huge resurgence of greened coppers, browned brass and other richly coloured burnished metals in interiors – all of which are personal favourite materials that I use in our projects at DGA.
The sample board above – beautiful enough to be an ornament of its own – demonstrates the sumptuous textures of burnished metals. They have a timeless, geological quality that I am confident will outlast any other of the trends on show in Decorex.
Such materials are ideal for period or listed properties, providing a polished, contemporary finish which still complements Georgian or Victorian details. It's always important in my interiors to consider not only what looks good today, but what will still look good ten years from now, and beyond.
Contemporary talent showed off glorious glasswork
The Future Heritage exhibition showcased new talents in contemporary British interior design, brilliantly curated by applied arts and design critic Corinne Julius.
Both my highlights from Future Heritage inventively utilised glass to enchanting effect.
Karlyn Sutherland created the sheets of wall-mounted glass above, playing with perspective to create the illusion of depth and architectural form. The stunning neon chandelier by Jochen Holz, below, freezes molten glass in time – an exciting new look for neon unlike anything I had seen before.
Either would make exciting centrepieces in the home, as both possess a dynamism to their form which would continue to delight for years, and I will be following both these master crafters closely.
Jemima Dyer-Grimes
Has Decorex inspired you to give your home a facelift? Get in touch with us now at [email protected]