INTERESTING STUFF
THAT CAUGHT OUR EYE
Remembering Enzo Apicella: Revolutionary Interior Designer and Cartoonist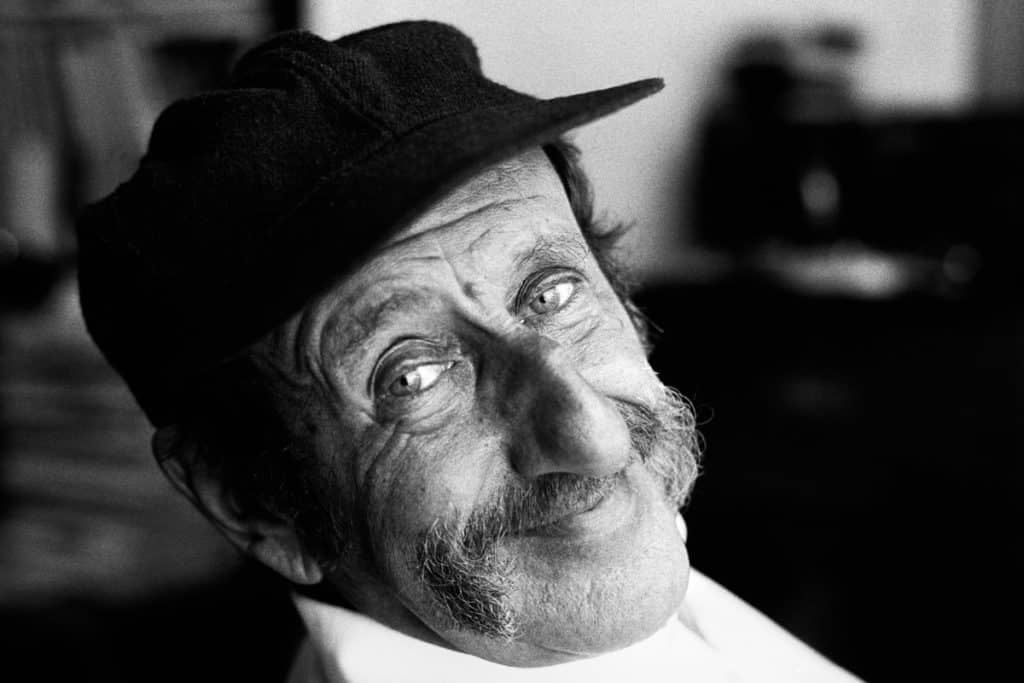 Photo © Jane Brown for The Observer
I was sad to hear of the passing of Enzo Apicella, who died aged 96. He was described as the padrone – the godfather – of London's Italian culture through his design work, including more than 80 Pizza Express restaurants. To me, he was an inspiration.
I was introduced to Enzo by Peter Boizot (founder of Pizza Express) when working on two of his projects in Peterborough: Gaston Restaurant and the Great Northern Hotel. Enzo spoke his mind freely in a wonderfully evocative way, flailing his arms around for theatrical effect.
Enzo would come with a vision, and it was up to me to make it a reality. He would hand me vivid, abstract design sketches such as the one below and say, "John, make it happen."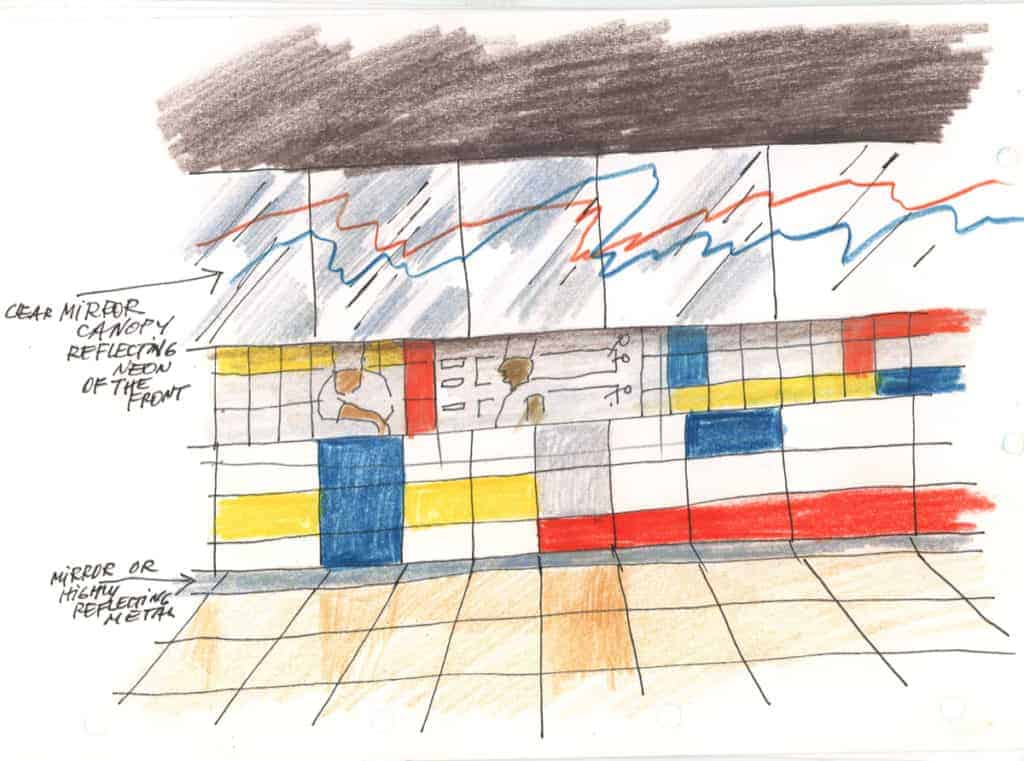 An original Enzo Apicella sketch given to me when working on the Gaston Restaurant in Peterborough.
He hated the word "No" or anyone saying, "It can't be done". His thick Italian accent gave him an out when he didn't like what was said; he would simply pretend he couldn't understand you.
Enzo was a prolific satirical cartoonist, a career which took him from Venice to London in 1954 after his opera magazine ceased publication. He went on to draw for The Observer, The Guardian, The Economist and Private Eye.
He drew daily throughout his life. His final cartoon, Post Scriptum, was released posthumously and depicts a frazzled Enzo saying, "Just arrived. There is NOTHING up here!!"
But it was his work as an interior designer which had the biggest impact, one which is felt across London to this day.
How Enzo Apicella Permanently Transformed London's Look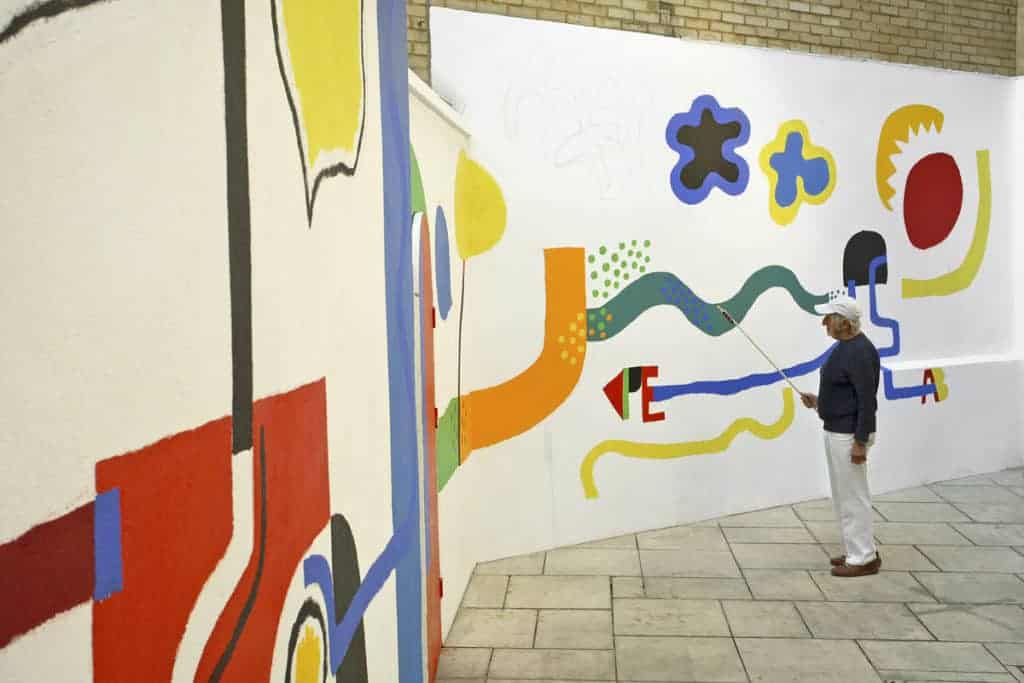 Enzo working on one of his signature murals. Photo © Glenn Dearing Photography
Enzo quickly became integrated into London's Italian community after throwing a 15-day party on which he spent all his savings. After making a whole host of new friends, his first foray into interior design was in Italian restaurants.
Italian restaurants existed in London before Enzo and his contemporaries, but no one would have considered them cool.
Their typical aesthetic was a tacky Mediterranean pastiche, complete with doric columns, paintings of Adriatic coastlines and candles stuck in wine glasses. The lighting was dim and the atmosphere was stuffy.
Then came Enzo; a one-man explosion of colour on the scene. The Italy he saw represented in London's restaurants wasn't the Italy he had come from, a country which, at the time, was pioneering pop and post-modern interior design styles which we still associate today with Italian design.
Enzo imported cutting edge Italian design sensibilities with his own restless and abstract artistic style. Clean, white tiles were contrasted with carefully selected pop art bursting with primary colours and his own bright, playful murals.
A fellow opera-lover, Enzo brought a theatrical flair to his restaurant designs, which he envisioned as theatres where customers were both the audience and the stars. Each table was individually downlit, turning them into their own little stage for the night's romance, comedy or drama to unfold.
Neither a cook nor a businessman, Enzo nonetheless became one of the most influential figures in London's restaurant scene. There is perhaps no greater demonstration of the power of interior design than his culture-shifting legacy.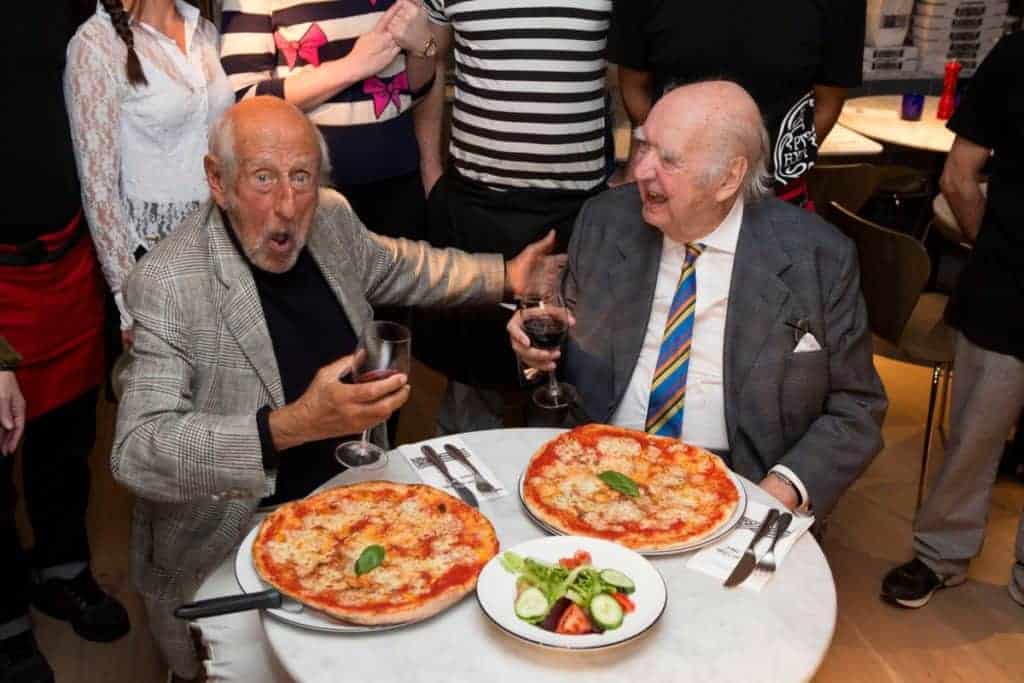 Enzo Apicella and Peter Boizot, founder of Pizza Express, enjoying a classic pizza margherita together.
Alongside the likes of his close friend and Pizza Express founder Peter Boizot (who I wrote about last month), Enzo helped to transform the culturally outmoded London of the 50s to the star of the "Swinging Sixties". His restaurants were as much a part of the era as The Beatles, the Mini and the miniskirt.
But his influence didn't stop there. Each of his restaurants acted like a showroom of Italian design and pop art which became embedded in the psyche of fashionable Londoners, who then wanted the same features in their homes. Long before Pinterest, this was how trends spread.
The close cultural connection between London and Italian design has continued ever since, and our clients still request interior design features which were first established by Enzo.
It's staggering to think just how much impact Enzo had on the look and feel of our interiors, and I'm thankful to have met him. His spirit lives on in many of the homes we've created and in the very landscape of our city.
I was so lucky to meet and work with such an inspirational artist and I will sorely miss him.