INTERESTING STUFF
THAT CAUGHT OUR EYE
Take a Tour Through a Modern Paradise Hidden in a Richmond Basement
Viewed from the street, our Montague Road project would seem like no more than a tasteful restoration of a Victorian Building of Townscape Merit. While this would be impressive in its own right, it is what we achieved below the building that turned it into a one of a kind home.
The floating stairs
Upon visiting the basement, your first impression will come courtesy of this staircase, and what a first impression it is.
Looking from the side, it appears that each step is floating in the air. While such a design would be possible on paper, it would not be practical or safe in a domestic setting. But if you look from a different perspective, you realise that all is not as it seems…
A wall of structural glass almost two inches thick ensures that the staircase is perfectly safe for everyday use while preserving the delightful illusion of the floating steps. In the right light, as seen above, this glass wall also provides mirror sharp reflections to make the basement feel more spacious.
The roof of glass
It is often the case in architecture that making something appear invisible provides the greatest challenge. This was certainly the case for this project, in particular the roof-light in the photo above.
At 18 square foot, the roof-light is so vast it cannot be captured in one photograph. It is assembled from a single sheet of structural glass, the kind typically reserved for the sides of skyscrapers, which presented both a logistical and structural challenge.
The hidden garden
As with many of our basement projects, we stretched the definition of a lightwell into something unrecognisable. The terrace beyond the living room is technically a lightwell; its architectural function is to provide light and air to an otherwise dark and confined area of the house.
But this is clearly far more than that. This lightwell combines function and from to create beautiful space in its own right and a natural extension not just of the house but of the garden as well.
Green walls are an elegant way to add lushness and vibrancy to urban gardens where space is a luxury. By combining a green wall with the planters on the left, the lightwell is transformed into a fertile garden, further masking its subterranean origins.
The stairs lead directly up into the main garden while glass balustrades allow the trees beyond to be visible from the basement with minimal obstruction.
A basement, redefined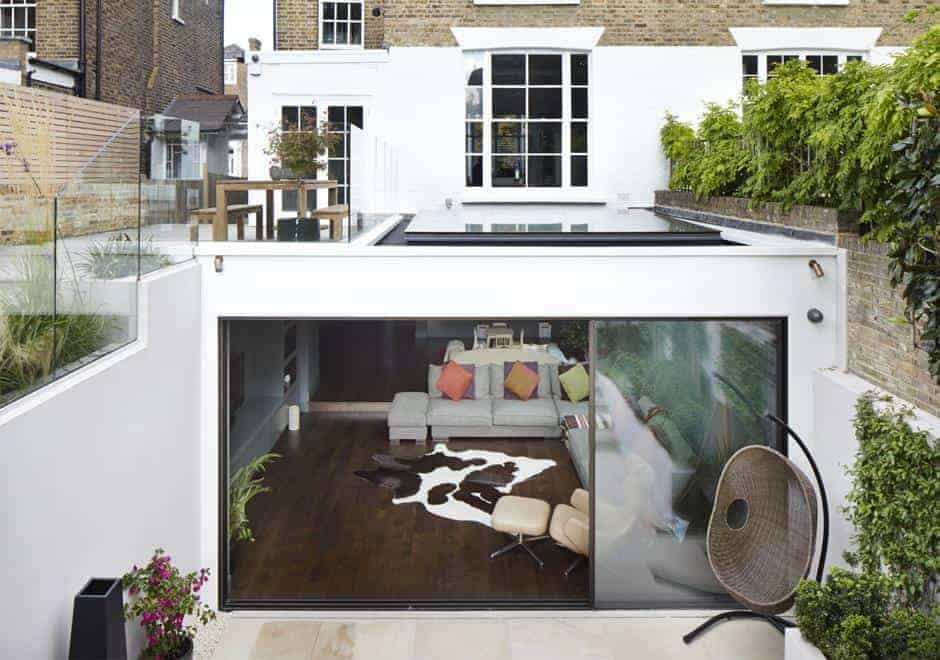 The only time that it is obvious that the living space is in the basement is when you look at it from above. Despite being underground, it is as light and airy as the floors above – if not more so.
If you have a cold and damp cellar currently being used for nothing more than a few wine bottles, I hope this photo tour has inspired on the transformative possibilities of a basement development.
To learn more or to ask any questions about basement developments, call us now on 020 3918 2732 or email [email protected]